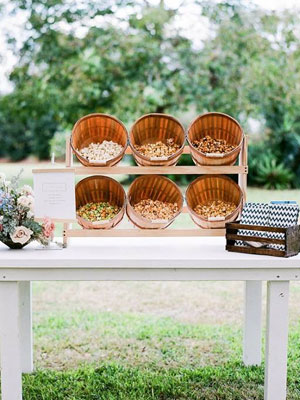 Cornucopia proudly caters parties and events. Keep your party buzzing with this fun snack, perfect for weddings, birthdays, or Company events.
Choose from individual favors or our amazing Popcorn Bar! Use the contact form to the right and ask about our bulk discounts.
Looking for a something different and that really POPS?! Contact Cornucopia to talk about a fun and interactive Popcorn Bar for your next party, or reception. Add your wedding logo or request popcorn in your wedding colors, for a fun twist!
Featuring our biggest popcorn tins, scoopers, and cups for group serving. We customize number of tins to fit the number of guests attending your event. Typically each 6.5 gal tin feeds 50 people.
Looking for someone to serve the popcorn to your hungry guests? Cornucopia has professional staff members who are trained to serve your guests with a smile and answer any of their popcorn questions. (Staffing available in Austin and surrounding areas.)
"I recently ordered a large quantity for our non traditional wedding reception (held in a bar after a destination wedding)…Staff were very helpful in assisting me with completing my order. When picking up, the order was ready, correct, and the staff helped me to my car with my purchase. The popcorn is always amazing. Birthday cake is my favorite and was the hit at our party! Everyone was very excited to have an alternative to cake!"
– Elizabeth, Yelp Reviewer
To get a quote for your party or event please use contact form below.